Coeur d'Alene is a city in the northern part of Idaho located along the Spokane River and
Coeur d'Alene Lake
, just east of the Washington state line. Coeur d'Alene is a small city with a lot to offer. Nestled in the beautiful North Idaho mountains, Coeur d'Alene offers outdoor adventure year-round, including skiing, hiking, and fishing. It is also a beautiful location for a romantic dinner.
When you visit Coeur d'Alene, Idaho, there's only one way to describe what your experience there will be like, and that's romantic. You'll be blown away by the view and the weather. It is a picturesque community with a feeling of isolation and is known for its scenic beauty, with lakes, rivers, mountains, and forests. You can't help but feel comfortable here and get swept up in the beautiful location and sophisticated dining areas. The food in Coeur d'Alene is fantastic, but the best part is the warm and romantic ambiance.
A romantic dinner out has nothing to do with the food or the service. It is the feeling that you belong and the feeling that everyone around you belongs, too. Some of the
best restaurants in Coeur d'Alene, Idaho
provide unforgettable romantic experiences.
Beverly's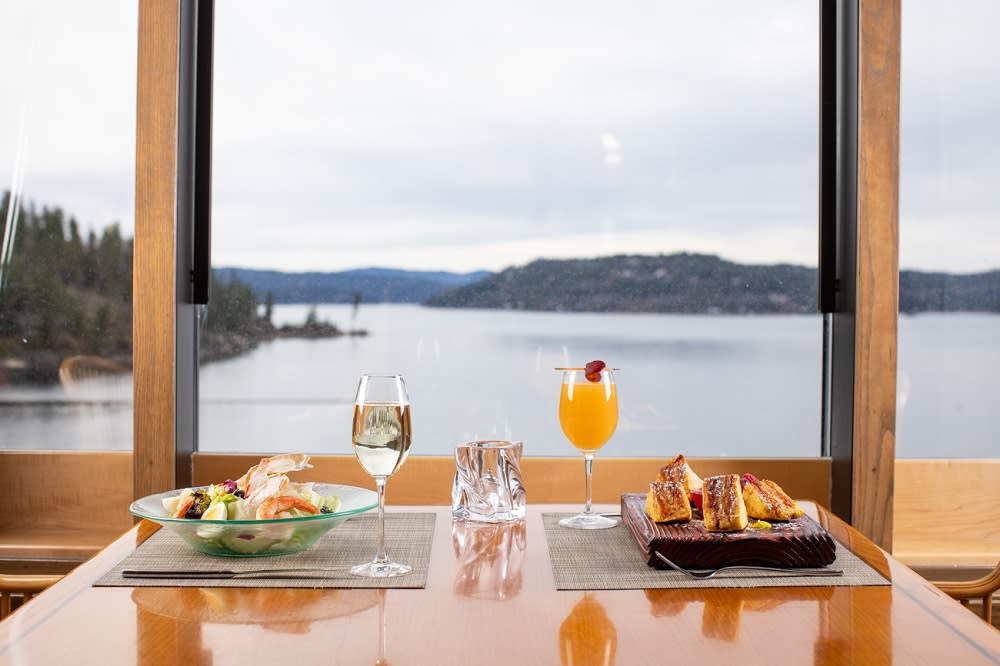 Photo courtesy of Beverly's
There are fantastic restaurants in Coeur d'Alene, and
Beverly's
is more than a romantic restaurant; it is one of the top-rated restaurants in the United States. The restaurant is on the seventh floor of The Coeur d' Alene and boasts incredible lake views and five-star cuisine. The dining space features granite floors, copper ceilings, an open kitchen, and a lake-view lounge with panoramic lake views. Beverly's also has a floor-to-ceiling wine display that showcases an extensive wine collection valued at more than two million dollars.
The restaurant has a unique Northwest-inspired menu prepared in the open kitchen for diners to enjoy. Not only does the food taste incredible and fresh, but the chef and kitchen staff artfully plate each item for quality presentation. Beverly's also offers daily wine tours and tastings with a stop at the on-site wine cellar. Tour participants meet a nationally accredited Sommelier that curates and pairs the luxury wine list. It is easy to see why Beverly's is one of the best romantic restaurants in Coeur d'Alene.
Satay Bistro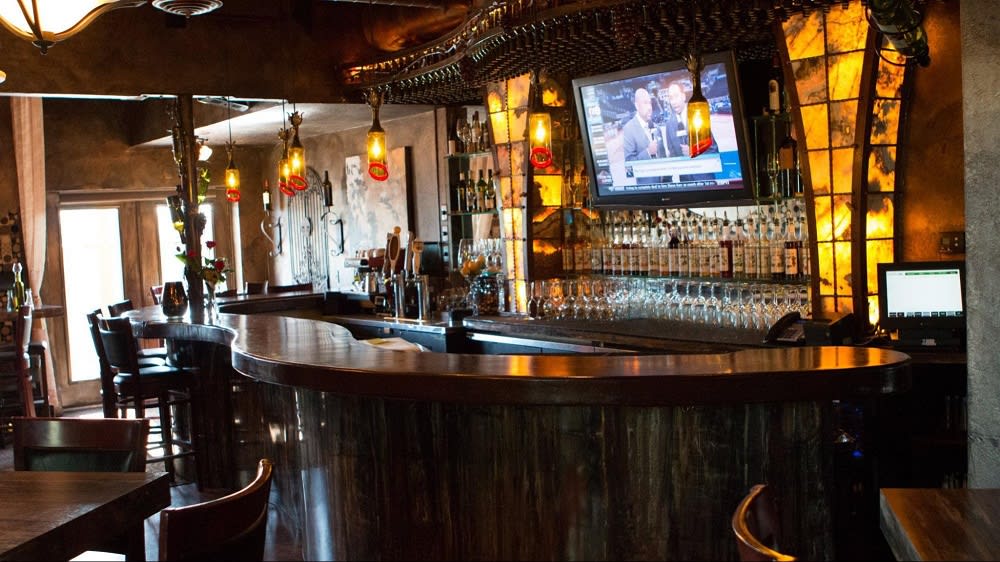 Photo courtesy of Satay Bistro
As far as romantic restaurants in Coeur d'Alene are concerned,
Satay Bistro
is one the best. It has been a locally-owned fine dining restaurant and catering venue since 1985. The restaurant has ambient lighting, beautiful wood tones, unique décor, and a large bar. The menu is a fusion of American dishes with a modern flair. The goal of Satay Bistro is to move past ordinary dishes and create an extraordinary culinary experience. Ingredients are locally sourced and are farm-to-table as the meat and seafood are cut in-house for the freshest taste. Pasta, soups, sauces, marinades, and desserts are made from scratch daily to ensure bold, organic flavors.
Satay Bistro also has an extensive wine list and wine cellar that showcases wines from California to the Columbia Valley. The expert staff can help guests choose the perfect wine for appetizers, main dishes, and desserts.
Tony's on the Lake
Tony's on the Lake
is an upscale Italian restaurant with a cozy atmosphere, and it is one of the best restaurants in Coeur d'Alene, Idaho. It is on the east side of the lake near downtown and features a comfortable dining space, warm fireplaces, lake views, and authentic Italian cuisine. Owned by the D'Alessandro family, the restaurant was remodeled to create a romantic setting that features water views and a relaxed environment for a night out.
Cedars Floating Restaurant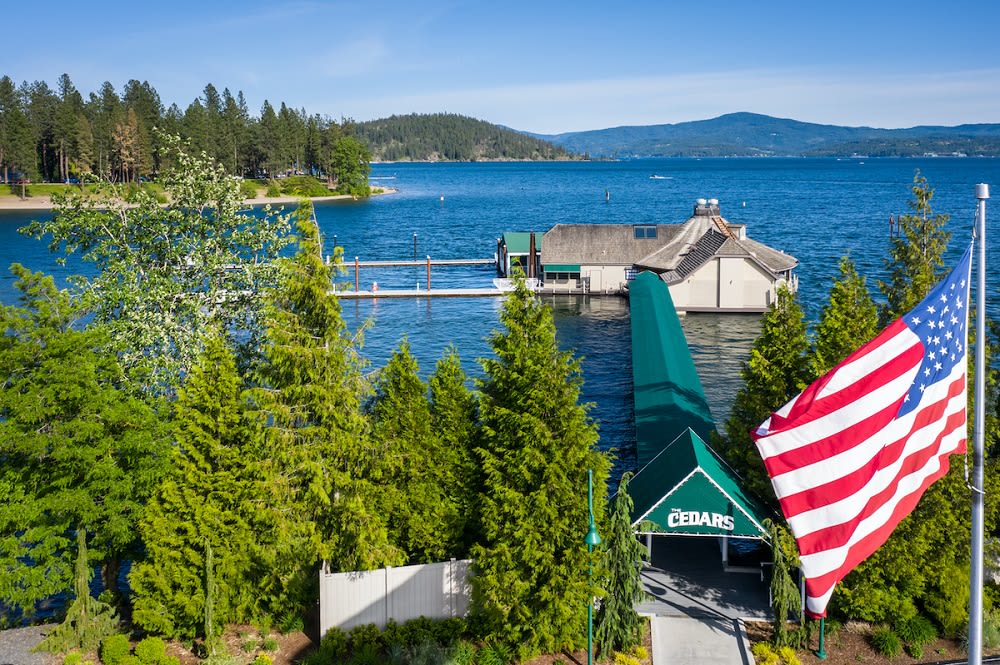 Photo courtesy of Cedars Floating Restaurant
What is more romantic than floating on the lake with low lighting and quality food? Nothing!
Cedars Floating Restaurant
is just what you imagine and has the most beautiful setting of the romantic restaurants in Coeur d'Alene. Guests walk along a short boardwalk out to the restaurant for 360 water views of Lake Coeur d'Alene. The Cedars is a renowned eatery founded in 1965 and buoyed by 600,000 pounds of concrete wrapped in Styrofoam. It is the only floating restaurant in the region, proving an even more special factor in a romantic environment. The restaurant serves locally sourced beef and the freshest seafood in addition to delicacies like cedar plank salmon and Biergarten filet. The Cedar also has a fine wine selection and a full-service bar. Guests can arrive by foot, car, or boat with the spacious boat dock.
Angelo's Italian Ristorante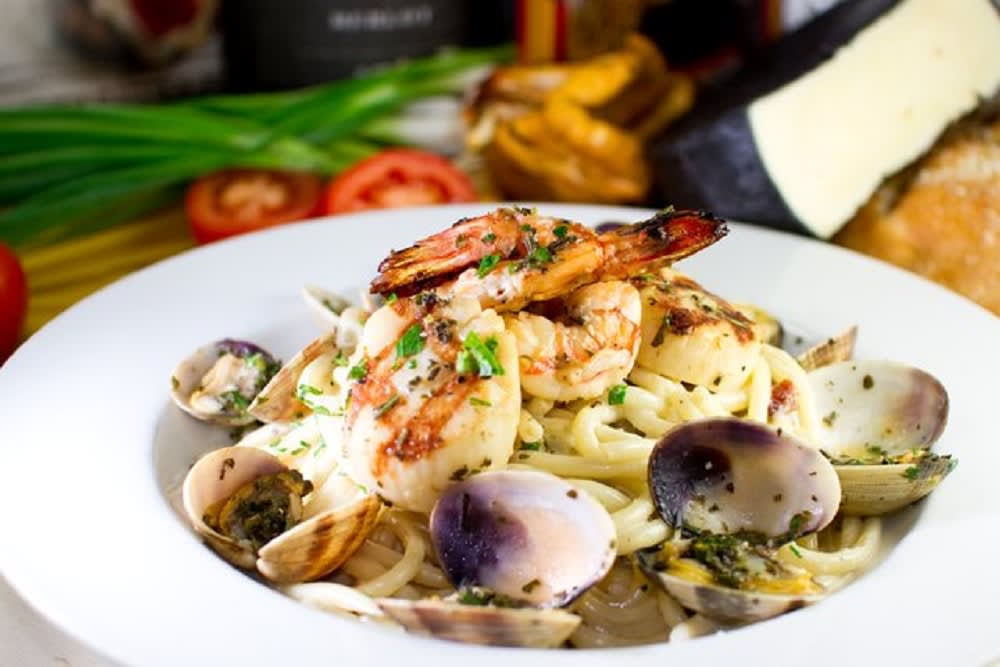 Photo courtesy of Angelo's Italian Ristorante
Angelo's Ristorante
is a well-known Italian restaurant and steakhouse in Coeur d'Alene. The extensive authentic Italian menu is created from scratch using Angelo's traditional family recipes. The restaurant is the perfect place for an intimate dinner for two topped with delicious fresh meals and flavorful wines. Some of the notable dishes include fettuccine al pescatore, crab ravioli, eggplant parmigiana, and sotto cielo. The restaurant also has incredible grass-fed beef selections, homemade pasta, and locally sourced ingredients. The dishes are created from certified organic sources, and many ingredients come from Angelo's garden, picked each morning, just one of the many reasons why it is one of the best restaurants in Coeur d'Alene, Idaho.
315 Cuisine
The Greenbriar Inn is another one of the best romantic restaurants in Coeur d'Alene,
315 Cuisine
. It was built in 1908 and is listed on the National Register of Historic Places. The bed and breakfast is four blocks from the lake and has traditional décor and furniture, private bathrooms, and TVs. The Inn and restaurant have beautiful antique décor, exposed brick, and rich wood tones. 315 Cuisine is an extension of the beautiful Inn and features live music during the summer, outdoor seating, and cozy fireplaces for an intimate dining experience.
The restaurant was restored with elegance and charm and beautiful antique pieces. It also features a 150-foot wrap-around deck with garden and patio views. It is a romantic setting come winter, spring, summer, or fall. 315 Cuisine serves a tapas or small plate menu, traditional dishes, and hand-crafted martinis. This romantic dinner can even become overnight accommodation at The Greenbriar Inn for an unforgettable romantic weekend.
Dockside Restaurant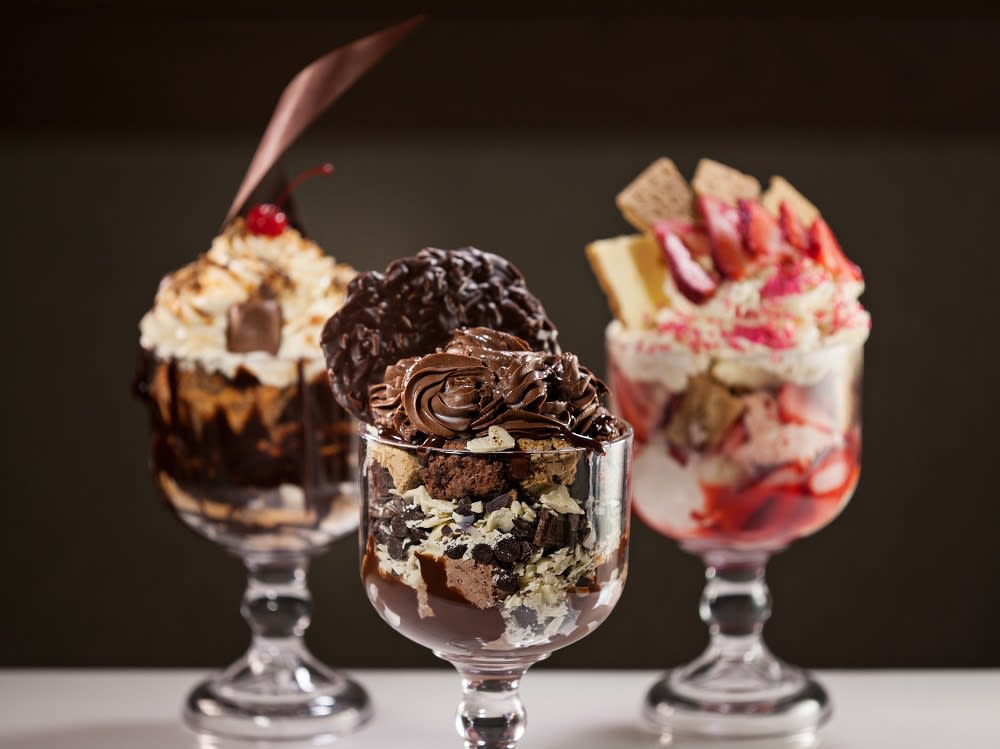 Photo courtesy of Dockside
Dockside
is a beautiful spacious dining option with large windows that gives way to the lake, which lights up at night with the glow of surrounding shops, eateries, and homes. Dockside isn't just for a romantic dinner; it also serves delicious breakfast and lunch so you can enjoy one of the best restaurants in Coeur d'Alene, Idaho, any time of day. The restaurant is on the lobby level of The Coeur d'Alene Resort and has a unique northern Idaho-inspired menu and access to resort amenities for guests. Dockside is also well-known for its gooey treats like Butterfinger and Reese's Peanut Butter Cup sundaes, specialty cheesecake, and homemade cobbler and pies.
Seasons of Coeur d'Alene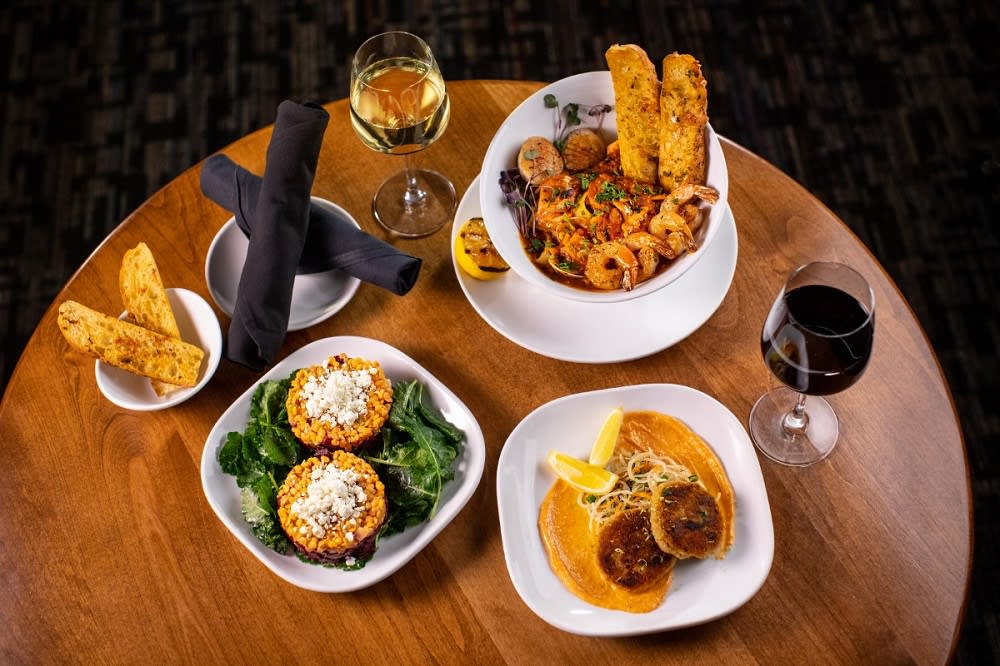 Photo courtesy of Seasons of Coeur d'Alene
Seasons of Coeur d'Alene
is a fresh grille and bar that has an intimate dining room and private dining spaces, which is why it is one of the notable romantic restaurants in Coeur d'Alene. The restaurant is locally owned and has a seasonal menu that features fresh cuisine made from scratch. There is also live music and events with special dinner options, patio seating, and event space for large gatherings. Seasons of Coeur d'Alene has a wrap-around bar with fun lighting that serves classic and specialty cocktails, wine, dessert drinks, and draft beer.
Anthony's at Coeur d'Alene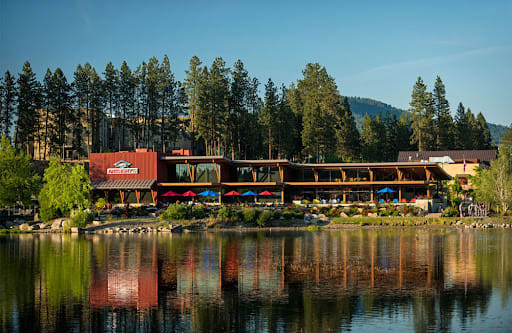 You know a restaurant has good views if it offers a sunset menu. Anthony's at Coeur d'Alene matches its scenery with a great selection of fresh northwest seafood. The aforementioned sunset menu comprises three courses: a starter (shrimp cocktail, chowder, or salad), an entree (prawns, salmon, trout, oyster), and dessert. The standard dinner menu offers patrons more choices, from Hawaiian nachos to seafood fettuccine. Finally, the menu varies according to what the restaurant's team of seafood buyers secure on any given day. Between that randomness and the reliability of the beautiful sunset, it's clear why people love Anthony's.
More than a restaurant
A romantic dining experience in Coeur d'Alene is more than the exquisite restaurants. It's the vibe of the community and all that it offers. Coeur d' Alene is a walkable hub with a collection of small hotels, restaurants, boutiques, and galleries that can all be found in the downtown area. Putting shopping and dining in Coeur d'Alene on the map has been a labor of love for locals for years. Residents love the area because it's so picturesque—the mountains, the tree-lined streets, the winding river—and it has friendly locals. From the first day, you'll feel a special connection with Coeur d'Alene and love the community. Try a new place, explore the area and learn more about the local culture.
Downtown Coeur d'Alene is a vibrant and beautiful area on the lake with more than 100 boutiques and eateries. The area's natural setting is the perfect place for a romantic dinner out in Coeur d'Alene, and the walkable streets end at a beach or park. After a five-star dining experience at one of the romantic restaurants in Coeur d'Alene, explore the town and talk a walk by the water or through unique stores. End your romantic evening out with a cruise on the lake, an art gallery, or delicious gelato.
Lake Coeur d'Alene Cruises
are climate-controlled boats with double-deck seating and full-service bars for a stunning and relaxed evening on the lake.
Coeur d'Alene Galleries
specializes in western, wildlife, and sporting art with rare and historical pieces on display.
Gelato by the Lake
serves homemade gelato in a variety of flavors made daily from natural and organic ingredients.
Live near these romantic restaurants in Coeur d'Alene
Ready to experience the romantic restaurants and stunning downtown in Coeur d'Alene? Expert real estate agent
Lisa Straza
has more than 17 years of luxury real estate experience. Lisa helps buyers and sellers navigate market conditions and stay up-to-date with research and listings. The process of buying or selling a home is seamless with Lisa on your side. She offers resources and tools for home valuation, land acquisition, relocation services, and more.
Contact Lisa
to start your journey to the beautiful and romantic Coeur d'Alene.